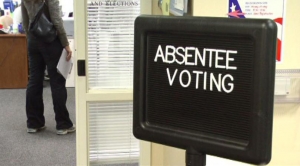 On Friday, absentee voting begins for the upcoming June 11th Primary – and the Virginia Department of Elections says qualified voters may vote absentee in-person at their local voter registration office or vote absentee by mail.
In order to vote absentee, a registered voter must meet one of 20 eligibility requirements, which include having a planned business trip or vacation, being a first responder, disability or illness, pregnancy, religious obligations, active duty military, or temporarily residing outside of the United States.
The last day to register to vote or update personal information on your registration for this primary is May 20 and absentee voting is available at voter registration offices Monday through Friday during regular business hours in addition to June 8th, which is the last Saturday before the primary.
People who wish to vote absentee by mail must submit a request for an absentee ballot by 5 pm on June 4th — for more information on requirements, locations, ballots and more, go to www.elections.virginia.gov .