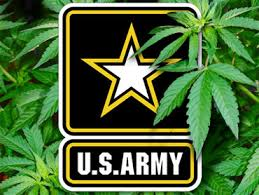 Army Eases Marijuana Restrictions
The United States Army is issuing waivers to potential enlistees who previously smoked marijuana, as long as they realize they can't smoke it once they're in.
The Associated Press reports with the numbers of states that have legalized possession of small amounts of marijuana up to six and an additional 13 states decriminalizing pot, the Army is granting hundreds of waivers to enlist people who used the drug in their youth that want to enlist.
Major General Jeff Snow, the head of the Army's Recruiting Command, says "Provided they understand that they cannot do that when they serve in the military, I will waive that all day long."
Recruits who score lower than 31 on the Army's aptitude test must meet specific criteria for the job they are requesting. There is no leeway on previous pot smoking for them. They also can't require a health or conduct waiver.
The move worries some however who are worried about the quality of recruits the Army is enlisting to meet enlistment quotas.