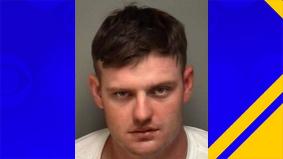 The Albemarle County Police Department says a Ruckersville man has been arrested for burglarizing a pair of local churches.
According to a release, 28-year-old Steven Tyler Miller is facing multiple charges including breaking and entering, grand larceny and destruction of property.
Police say there were two separate incidents earlier this month involving churches on Stony Point Road near Pantops and Crozet Avenue in Crozet.
At the time of his arrest Miller was reportedly out on bond for a previous grand larceny arrest in Albemarle County and is now being held without bond on these new charges at the Albemarle-Charlottesville Regional Jail.
The investigation into the burglaries is ongoing and anyone with information should call Crime Stoppers at 434-977-4000.