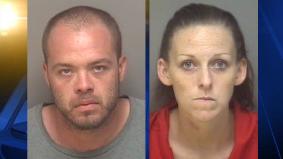 Two people have been indicted in the 2016 death of a Nelson County woman.
According to a release from the Nelson County Sheriff's Office, a Nelson County grand jury handed up indictments against Timothy Tyson Ramsey and Miranda Sue Harris on Wednesday.
They are charged with felony murder, concealing a dead body and distribution of methamphetamine in connection with the May 2016 death of 29-year-old Samantha Rena Tyree of Shipman.
Ramsey and Harris are accused of accidentally killing Tyree in the commission of a felony involving giving or distributing methamphetamine to her.
Her body was found along the river bed in the Massies Mill area.