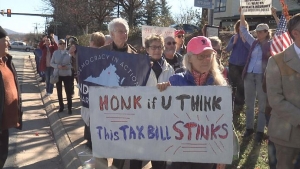 Members of Indivisible Charlottesville gathered outside of the Albemarle County office building Tuesday to urge Congressman Tom Garrett to vote 'no' on the new tax reform bill.
Garrett has already voted 'yes' on the bill and said in a statement that he is proud of doing so; but due to some required procedural changes, the House will revote on the bill Wednesday.
Indivisible members say they hope their day-before-the-vote protest convinces Garrett that the bill is a scam.