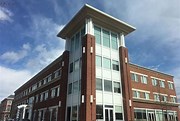 Just after beginning work on a new hospitality complex at the former site of The Cavalier Inn, the University of Virginia Foundation has announced plans to build a new hotel near the Charlottesville-Albemarle Airport.
In fact, the foundation is considering the possibilities of locating a hotel, residential development and UVA's new Bio-Complexity Initiative in the southernmost spur of UVA's North Research Park on Airport Road and Route 29.
As part of its ambitious development plans, chief administrative officer Deborah van Eersel said the park inaugurated service on its new free shuttle bus on Tuesday, ferrying people between the research park, UVA's Old Cabell Hall and Rivanna Station — every 30 minutes on weekdays from 7:30am to 6pm.
For more info, go to www.uvaresearchpark.com .