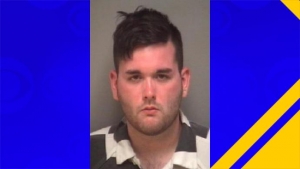 Citing media coverage of the events of the Unite the Right rally and its aftermath, attorneys for the man accused of killing Heather Heyer and injuring several others on Aug. 12th last year have asked to move his trial.
James Fields, Jr.'s attorneys have filed a motion for a change of venue which will be addressed at an upcoming hearing on Aug. 30th in Charlottesville Circuit Court.
Fields is facing a first-degree murder charge and multiple malicious wounding and assault charges after he allegedly drove his vehicle into other vehicles and a crowd of counter-protesters near the Downtown Mall.
Fields is also facing multiple federal hate crime charges but the murder trial is currently scheduled to begin in November — Fields' attorneys claim he will be unable to have a fair trial in Charlottesville.