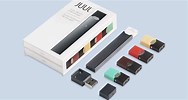 The Blue Ridge Poison Center has issued a warning regarding one brand of electronic cigarettes that resembles a computer flash drive and, according to a release, the popular device called JUUL could leave teens addicted to nicotine.
The release points out that JUUL use has skyrocketed by 800 percent since 2011 — and a separate study reports that that more than half of teen JUUL users believe the product does not contain nicotine, but each pod actually contains liquid that is 5 percent nicotine — equivalent to one pack of 20 conventional cigarettes.
The poison center further advises users that people who vape are more statistically likely to smoke conventional cigarettes in the future.