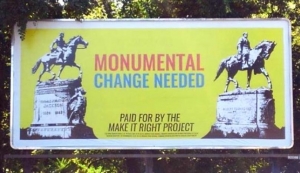 On Tuesday, a controversial billboard was installed in Charlottesville by a national organization called the Make It Right Project.
According to a release, the billboard on East High Street near the Route 250 Bypass shows the statues of Robert E. Lee and Stonewall Jackson flanking the words "monumental change needed".
Project director Kali Holloway says "it is no coincidence that Confederate monuments are so often the sites of racist violence and intimidation" and, according to Holloway, they continue to be a threat to public safety and well-being.
Supported by the Hate Free Schools Coalition and Black Lives Matter, the release says the Make It Right Project is dedicated to remove Confederate monuments and to tell the truth about history.