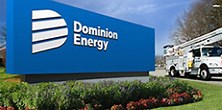 Dominion Energy is on full standby alert for any potential outages across the commonwealth – Dominion is expecting approximately 800 storm-related workers from 11 states, some of them as far away as Texas and Wisconsin.
They'll stay based in the area for the duration of the storm and could be sent across the state or even to the outer banks to help restore power if needed.
Even though the path and wind speed for Hurricane Florence has changed somewhat. Dominion crews are still preparing for the worst.