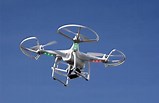 State Farm and Virginia Tech are using technology together to assist in storm recovery by sending drones to assess damage from Hurricane Florence.
The first-of-its kind mission has special permission from the FAA to allow the drones to fly in over people and neighborhoods in emergency zones.
The drones can explore neighborhoods with the most destruction and gauge damages to specific homes enabling claims processing to be expedited faster than before.
State Farm will send out its first drone crew this weekend.