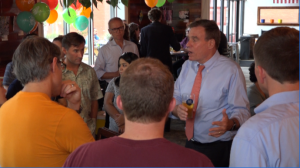 A new tariff by the Trump administration was the focus of discussion Friday when U.S. Mark Warmer met with members of the Brewer's Association at Random Row Brewing Company in Charlottesville. The tariff affects imported aluminum and steel, including products from Canada and Mexico.
The Brewer's Association said the tariff is expected to raise production costs for local breweries, which can also bring higher prices for their customers.
Kevin McElroy, co-founder of Random Row Brewing Company, said they haven't felt the tariff's effects yet, but it could impact expansion plans.
"For us, it's more about steel and tanks," said McElroy. "To expand, we need to purchase larger brewing tanks and fermentation tanks."
Warner agrees that the tariff would impact a brewery's ability to expand because of the unknown cost it could have on their business.
"If you can't predict what your prices may be six months or 12 months out, you may see some of these companies not able to expand," said Warner. "That's not good because these are locally owned, locally based. They don't have the size to compete with the international and national companies."
Warner said the U.S. needs stronger trade rules with China that doesn't impact our allies.