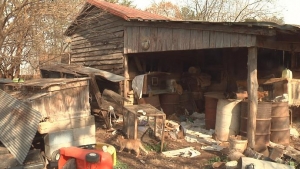 (Metro) Hundreds of animals are being taken care of at the Louisa County Fairgrounds after being found in deplorable conditions.
Authorities estimate as many as 500 cats, goats, chickens and an emu are among the animals taken yesterday from the 40-acre farm on Old Mountain Road.
Rescuers say there were so many animals in cages living in their waste that they couldn't move.  Rescuers wore biohazard suits as they worked to remove the animals.
Authorities have not yet charged the owner.