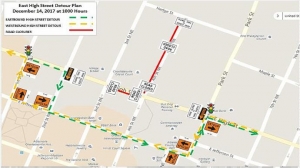 A series of emotionally charged court hearings will cause downtown road closures for most of the day in Charlottesville Thursday.
According to a release, due to public interest in the hearings, they will be held in the Charlottesville Circuit Courthouse on East High Street.
As a precaution, there will be two limited street closures from 11 a.m. to 8 p.m. on East High Street and Fourth Street NE.
Detours will be in place and no Charlottesville Area Transit routes will be impacted by the closure.
Over at the courthouse, per court order; no bags, purses, or electronic devices will be allowed after 10:30am.