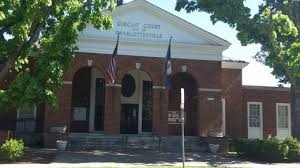 The Office of the Court Clerk in Charlottesville will close at 10:30am Thursday, and two roads will be blocked all day due to several court hearings taking place.
Judge Richard Moore signed the order Monday to close the Court Clerk's office citing concern for the safety of Clerk's Office personnel and the public.
Several people facing charges related to the Unite the Right rally are due in court, including James Fields, Jr. who is charged with second degree murder for driving his car into a crowd of people and killing a woman.
Two other men are facing charges for beating Deandre Harris in the Market Street Parking Garage and another man is accused of firing his gun at a crowd of people.
As added precaution for what is expected to be an emotional day at the Circuit Court, East High Street and Fourth Street NE will be closed in the area from 11am to 8pm.