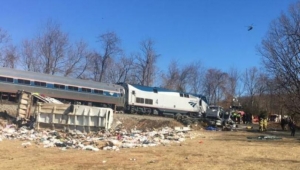 The father of a man seriously injured in the crash between a train and a garbage truck in Crozet earlier this year has filed a lawsuit, claiming the railroad was negligent.
A lawsuit filed in Albemarle County Circuit Court Friday claims the crossing signal was not functioning at the time of the Jan. 31 crash.
The lawsuit claims the Time Disposal truck crossed the white line at the crossing when the crossing lights were not flashing and the arms were up. The suit alleges the arms came down after the truck was already on the tracks, trapping it.
An Amtrak train carrying Republican members of Congress hit the back corner of the truck, causing serious injuries to Eddy and killing one of the truck's passengers.
A National Transportation Safety Board report says the truck went around the crossing signal after the arms had already come down, and that caused the crash with the train.
The lawsuit is asking for $10 million in damages.