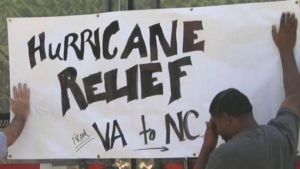 The convoy of tractor trailer trucks from Greene County has returned home after delivering emergency supplies to victims of Hurricane Florence in North Carolina.
The four-truck convoy of volunteers arrived in New Bern, North Carolina on Monday with each truck carrying 80,000 pounds of supplies to the flood-ravaged victims.
But organizers of the event are asking that members of the Charlottesville community continue to drop off donations of non-perishable food, essential household and personal hygiene items – hurricane relief collection sites are still accepting donations at Walmart in Ruckersville and Shenadoah Joe's and Sam's Club in Charlottesville.