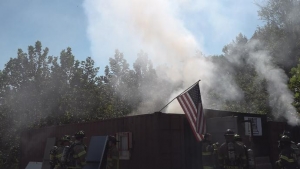 On Saturday, about two dozen firefighters from across Virginia participated in live fire training at the Stanardsville Volunteer Fire Department in Greene County.
The training included forced entry and rescue drills in the training structure where firefighters fought back open flames in a kitchen area using canned pressurized water rather than a hose, and practiced rescues using dummies.
The day of training was put together by several firefighters including Stanardsville Volunteer Fire Chief Dustin Clay who says that Greene County has a shortage of volunteers – anyone interested must be 16 years old and training is provided.